I vividly remember my husband's sad, sad grad school apartment. He had nothing on the walls, and his few pieces of mismatched battered furniture all came from the "last chance" section of the Goodwill Store. I still have nightmares about his lovely mustard-yellow plaid sofa. We actually had our first fight about that sofa, because when we got married, we disagreed about whether to give that "beauty" a home in our apartment. (Guess who won?)
So, as I helped my youngest child furnish and move into his first apartment this past month, I was determined to ensure that it was both comfortable and attractively decorated. Given that my son is attending law school and living on loans, it was imperative that I devise some very Inexpensive Apartment Decorating Ideas.
I started this process by asking my son what kind of style he was attracted to. Knowing my decorating-challenged offspring, I was not surprised that he didn't declare his preference for a specific period or type of design. However, I was taken aback, when he presented me with a picture of "The Reptile Room" from the Netflix production of the weird and wonderful  A Series Of Unfortunate Events and stated that he would like his decor to look something like Uncle Monty's living room, except without the reptiles!
I love the totally over-the-top sets from this excellent show. But I knew there was no way to duplicate this lushly-layered and decidedly quirky interior on a shoestring. So, what to do? I decided to try to distill the look down to its essence. I determined it to be basically, a Victorian Era English gentlemen's library, albeit with a twist. The decor includes several generously-sized pieces of masculine furniture, a rich jewel-toned color scheme, lots of books, and a variety of patterned fabrics.
Inexpensive Apartment Decorating Ideas
My son was attracted to the dark green walls in the "Reptile Room" set, so we agreed on a dark green and navy blue color scheme.  Since we couldn't paint the walls and the carpet in his apartment was beige, I chose to anchor the seating area with this 5 x 8-foot navy and green plaid area rug. Just by layering it over the bland wall-to-wall carpeting, we immediately added a lot of personality to the space.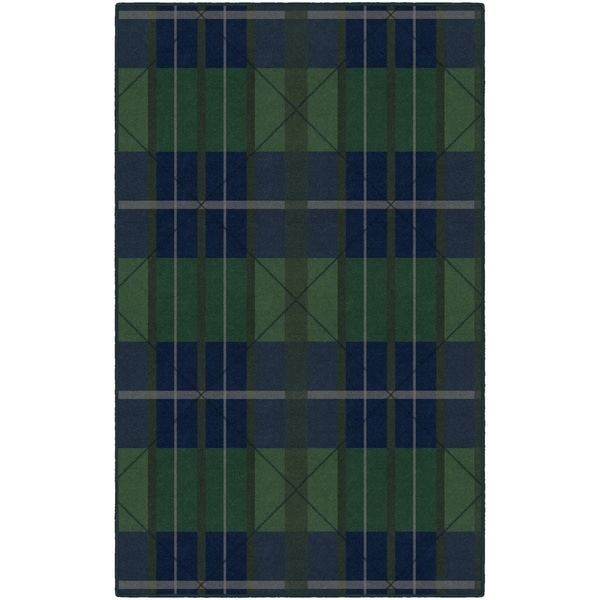 Since our inspiration featured a leather sofa, we decided to search for a deep brown faux leather couch for the living room. The apartment's limited square footage mandated that we acquire a sofa between 70-75-inches long. However, identifying one that fit the bill turned out to be harder than I thought it would be. The loveseats we found were too small (ranging from 58″ to 60″) and most of the sofas were too long (ranging from 82″ to 98″). Finally, I found this Serta RTA sofa online. The disadvantage of this was that we couldn't sit on it before we bought it, but fortunately, it turned out to be relatively comfortable.
Virtually every stick of furniture we purchased for the apartment, including this sofa, shipped in a box and had to be assembled. I was quite concerned about how hard that assembly would be and also how the pieces would look once we put them together. However, I have to say that I was pleasantly surprised on both counts with everything we bought.
We added some color and interest to the sofa with a navy throw blanket and four pillows. I chose two pillows in dark green velvet and two more in a William Morris Seaweed pattern.
Since we were going for a Victorian period (1837-1901) look, I selected this handsome Mission style (late 19th century) tv cabinet because it could also provide much-needed storage for some of my son's many books. I was more than impressed with the quality. The details of the arched glass-front doors, the wrought iron cabinet pulls, and the rich cherry finish give this piece an expensive look for the bargain price of just $200.
Although we bought it on sale, our one splurge item was this gorgeous blue tufted velvet armchair from Pier 1. It doesn't really count as one of my Inexpensive Apartment Decorating Ideas, but because it looks so luxe, it was well worth stretching our budget a bit to have it in the room.
The set design that inspired our room includes several trunks. This makes sense, as the character of Uncle Monty travels all over the world in search of exotic reptiles. Because of this, it seemed like a no-brainer to choose a trunk-style coffee table. This espresso finished trunk fit perfectly with our scheme and the decorative brass tacks coordinate with the tack trim on the blue velvet armchair.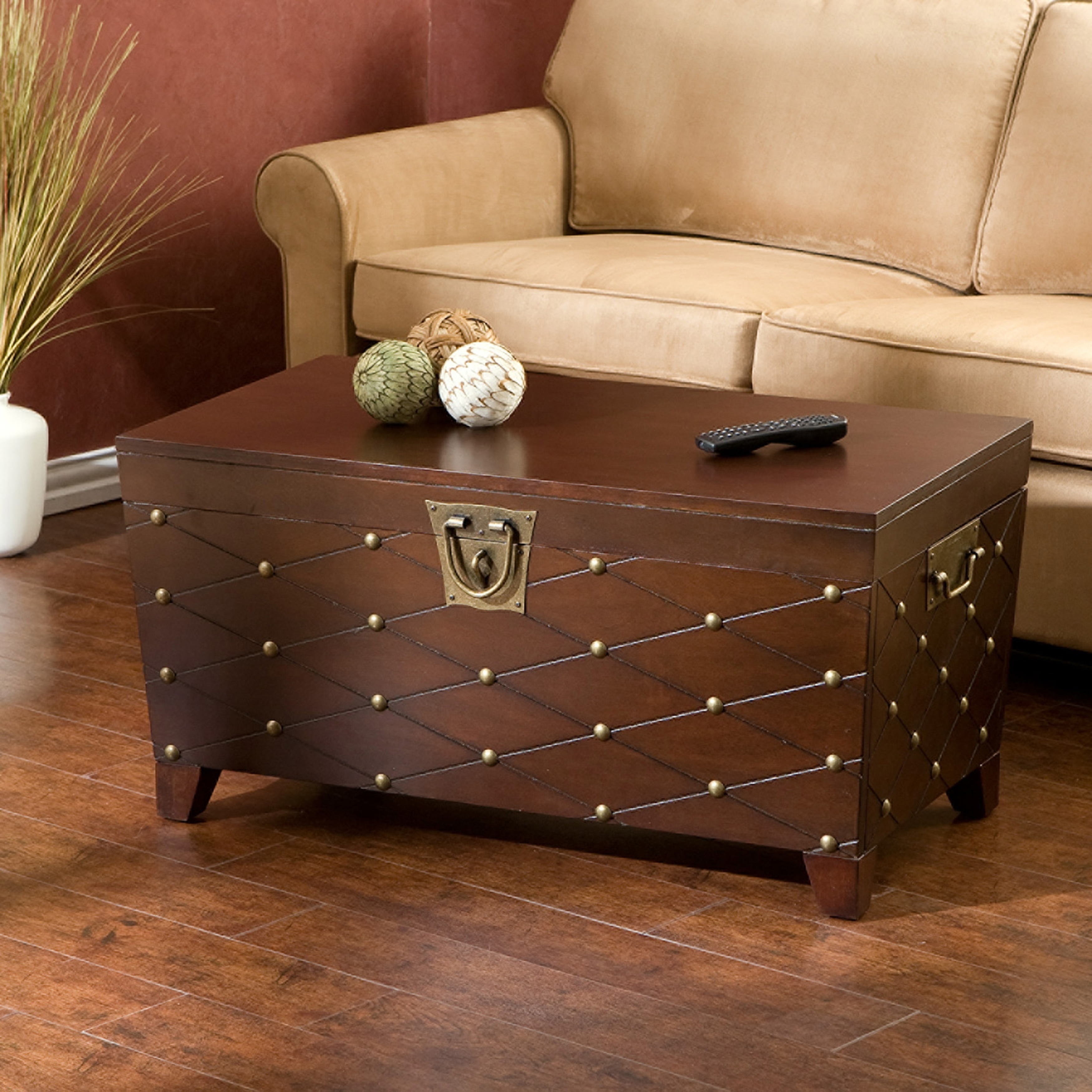 Light fixtures are a great way to bring in character without breaking the bank. We bought several lamps for both ambient and task lighting. This globe style lamp was our version of the very unique desk lamp from the "Reptile Room" set.
Another thing that I had to address was the window treatment. The apartment had these functional, but truly unattractive vertical blinds. They definitely didn't work with our English gentleman's library theme, so I desperately wanted to cover them up or at least, add some drapery panels.
The problem with this is two-fold. One:  the leasing company frowns on people drilling holes in the wall to hang draperies and two:  it is difficult to find drapery hardware deep enough to hang curtains on top of vertical blinds. However, I did some research and found these fantastic NoNo Brackets that are made to fit over the blind valance–no drilling necessary. These brackets are only $14.95 a pair, which makes them one of the best Inexpensive Apartment Decorating Ideas I found.
We purchased a matching dark bronze drapery rod, and we were in business.
I chose these draperies which look like men's suiting to coordinate with the other elements in the room.
Unfortunately, my son's apartment is on the first floor which necessitates keeping the blinds drawn all the time. To allow light into the room and maintain privacy, sadly, it was clear that he needed sheer curtains instead of my lovely plaid draperies. I didn't want to give up on having some pattern at the window, so I chose these blue and white striped sheers. They don't scream gentleman's library, but they do to add character to the decor.
A final Inexpensive Apartment Decorating Idea that I introduced was this fabulous emerald green Peel And Stick Wallpaper. While the spotted black panthers are certainly not reptiles, I think that world traveler Uncle Monty would have approved. We placed the wallpaper inside of a bookcase, but I think we could also use it to create a feature wall.
Now, admittedly, my son's apartment doesn't look anything like the Series Of Unfortunate Events set. However, I do think I managed to come up with some Inexpensive Apartment Decorating Ideas to create a stylish space inspired by a very unlikely source. And maybe, if my son has any of his mother's over-developed interest in collecting, in time, he can acquire additional decor items to flesh out the quirky gentleman's library design further.
If you enjoyed this post, you may be interested in :
Sharing this post with these terrific link parties:
Metamorphosis Monday, The Scoop, Inspire Me Monday, Project Inspired, Style Showcase, The Creative Circle, Feathered Nest Friday