My home was built in the late 1990s. When we bought it in the early 2000s, it felt like a brand new house. Some 20 years later, it has starting to show its age. Don't get me wrong. I still love it. It has lots of floor-to-ceiling windows, an open floor plan, and for the most part, it functions well for our family. It also has some features that were quite popular back in the day that are no longer particularly desirable. One such so-called amenity is the kitchen desk. These small built-in desks were designed to provide a place for the homemaker to sit and make grocery lists, pay bills, keep track of family schedules, make phone calls, etc.
What my kitchen desk turned out to be was a dumping ground for mail and junk. I can honestly say that I have never ever sat at it. Adding insult to injury, this mostly useless eyesore is also visible from virtually every room on the first floor. When my kids were growing up, I just tried to ignore it. But lately, since I've been home all the time, this unsightly kitchen desk has become the bain of my existence. So, after way too long, my frustration has finally driven me to do something with this blight on my decor.
My first idea of what to do with my unwanted kitchen desk was to tear it all out and replace it with a built-in pantry. I believe this would've been the best solution for two reasons. The first is that my kitchen only has a tiny half pantry which is entirely insufficient for our needs. Because of this, I have to use the utility closet in my laundry room to store most of my canned and dry goods.
Converting the desk area into a pantry would provide much-needed increased food storage space. Also, floor-to-ceiling pantry doors would give the area a clean uncluttered look, making it much easier on the eyes than a messy desk.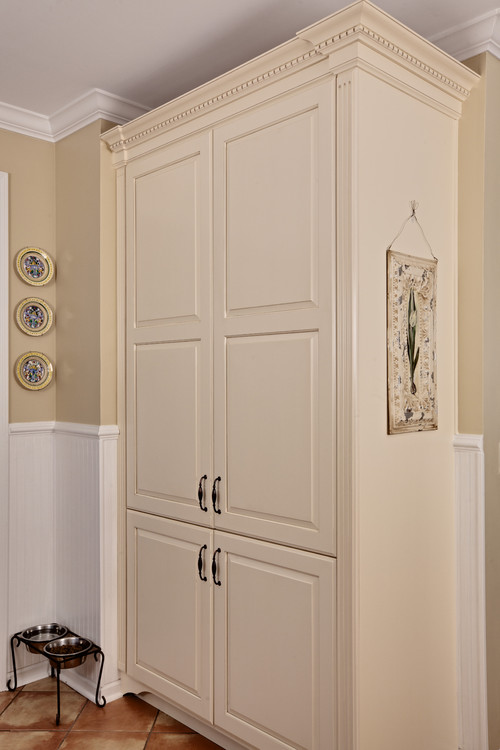 Unfortunately, my pantry plan proved problematic. Of course, cost was a factor. As empty-nesters, we are beginning to contemplate down-sizing, and putting money into the house that we probably won't recoup, doesn't seem like a great idea. Not to mention that even if we decided to bite the bullet and put in a pantry, matching the finish on the 15-year-old hand-painted and distressed maple cabinets seems tricky.
Another idea I considered was to turn the kitchen desk into a beverage center. It could house the Keurig and the electric tea kettle, as well as a decorative mug tree. This would free up counter space in the kitchen and make it easy for guests to help themselves to coffee and tea without having to rummage through the cupboards for their morning caffeine fix. I even thought about installing a wine fridge in the space underneath the desk. Although creating a beverage bar was appealing, I had to discard the idea because I had no alternative place to put our printer.
As much as I like our house, one of its major flaws is that it doesn't have a dedicated office. Since COVID hit, my poor husband has been working from the fussy French-style desk that served as a vanity for our daughter when she was growing up. At the same time, my son is finishing up his law degree from a card table shoehorned into his childhood bedroom. Despite the fact that I do not sit at the kitchen desk to work, it is the only practical place to store office supplies and to house the printer.
Since I needed to resign myself to leaving the printer in place, I had to face the fact that the unfortunate kitchen desk would have to continue to at least look like a desk, if not fully function like one. "If you can't replace it, decorate it" has been my go-to motto my entire life. Sometimes, this feels a bit like putting lipstick on a pig, but I usually find a way to make it work. See my post entitled, "Inexpensive Kitchen Updates And Camouflage."
In the end, sprucing up the kitchen desk was ridiculously simple. The main thing I did was to apply some inexpensive peel and stick wallpaper to the back wall of the desk. I chose a large-scale black and white buffalo plaid to coordinate with other black checked items in my kitchen and family room. One of the things I like best about this paper, besides the ease of application, is that it looks like fabric on the wall. This really elevates the look. The wallpaper was surprisingly transformative. It made the desk into an attractive feature in the kitchen rather than an awkward dumping ground.
I toyed with the idea of removing the bulletin board but in the end, I decided to leave it. But instead of using it as a place to pin flyers, party invites, and other miscellaneous paper detritus, I wanted it to be an art piece. To this end, I used it as a frame for a small wrought iron mirror and an arrangement of black and white postcards.
Everything on the desk is black and white (except for the cookbooks) so that it blends with the rest of the kitchen/family room and looks intentional. I even replaced my ragtag collection of pens and pencils with all-black writing implements.
Would I have like to get rid of my kitchen desk? Absolutely. The kitchen desk still isn't hugely functional, as I still never sit at it. But at least now I don't feel like I have to apologize to guests for it. It's the perfect example of how employing a cohesive color scheme and adding a few decorative items can make a huge difference to a space with very little expense.
If you like this post, you might be interested in:
Inexpensive Apartment Decorating Ideas